When I put it on the rack I was a little worried that it went for too long and would end up as a flatbread. But now..twitter.com/i/web/status/1…dj
Let's continue our outside-time reminiscing with this moody morning close to Monschau in the Eifel @ Monschau instagram.com/p/B-We60QHpbQ/…
@badboy_ It took me ages to get there. So don't give up.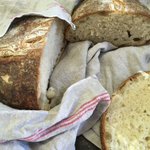 First time the sourdough thing (without a form) actually worked. I am amazed. pic.twitter.com/ezc5QBO50t
@badboy_ When using Spotify or iTunes you can redirect the output to sonos but not in general afaik
@badboy_ Thx. I'll check it out (if I still can)
@badboy_ Any suggestions? I'm currently searching for my favorite Berlin coffee for everyday consumption
Was ist eigentlich die gängige Haltung zu Catalina auf dem Arbeitsrechner? Yay? Nay?
deuxcvsix "Wir habe unsere Wohnung ja nach Energie und Wellenfluss ausgerichtet."
"Feng Shui ?"
"Nein, WLAN."