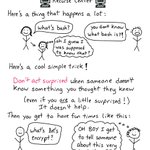 b0rk "no feigning surprise" (from the wonderful @recurse manual: recurse.com/manual) pic.twitter.com/ZPc07LlFle
benefactumgames Trump's people tell a lie. Then another lie to cover it. Then two to cover those. 3, then 5, then 8. We call this the Fib-o-Nazi Sequence.
AstroKatie "Don't worry," said the cosmologist, "it will all be 0K in the end."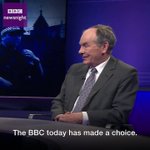 BBCNewsnight "The BBC has opted with the terrorist" - @simonjenkins4 on the reporting of yesterday's #Westminster attack pic.twitter.com/zoPwzBu74R
loewenlocke Wie klein Gütersloh ist? Ich fragte die Mitbewohnerin nach der besten Dönerbude, sie antwortete "Die rechts."
KleineMaulwurf "Wo bist du grad?"
"In der Bredouille."
"Hach, Frankreich. Schön ♥️"
"continous analogue" - I see what you did there!