Ertränke den Schmerz in Chili, Tomaten, Knoblauch und Pasta.
mikeFAIL Re: "the great reckoning"

This is powerful and this is fucking real. pic.twitter.com/XjJ0VNzS8b
"PROGRAM DEFECTIVE (TERMINATED BY SIGNAL):Bus error" Thats a new one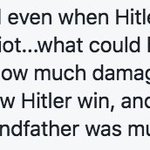 kronda I'll just leave this here. Shared with permission. twitter.com/kronda/status/… pic.twitter.com/FvlN6kPdYt
_Enanem_ Ok, don't panic… If we hold the North and South Pole down simultaneously for eight seconds, it'll automatically restore to factory settings.
evan_greer Obama: you have 3 months to shut down as much of the unaccountable secret surveillance state you've built as possible before Trump runs it
vieuxrenard Auch die #NSA geht damit wohl an #Trump. Vielleicht verstehen wir nun, warum man Behörden niemals Blankoschecks ausstellen darf. #USwahl16
bpedaci BRITAIN: Brexit is the stupidest, most self-destructive act a country could undertake.
USA: Hold my beer.