@bmalum_ kann ich dem gcc 5.3 irgendwie beibringen alle fehler vom gcc 4.6 auch zu compilen? So legacy mode?
@budgetfirst But also the least important I think. If the data is otherwise accessible
@bmalum_ ja bloß gefixt bekommen hab ich es noch nicht. Fun fact: gcc4.6 segfaulted aufm Mac -.-
@bmalum_ benutzen gcc 4.6 am Lehrstuhl -.-
@badboy_ wollte der ASTA nicht prüfen ob das überhaupt rechtens ist? ist da was bei rumgekommen?
ah das war in implicit cast der mit neueren gcc versionen nicht mehr erlaubt ist. fuck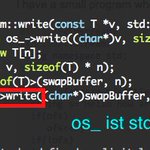 kann mir jemand verraten wie das compiled (es tut am Lehrstuhl): Seit wann gibt ostream::write ein bool zurück? #c++ pic.twitter.com/c9XF64cUwM