ich mache heute einen ruhigen und schaue "Platforms State of the Union" und löffle meine restliche Hühnersuppe
@badboy_ Das schreib ich mir auch auf die Seite! Vorsicht! Ich bin arsch Lahm!
Nach einer Stunde Meeting brauch ich ne Pause. Oder wie mein Betreuer meinte: "That was a meeting in burst mode. "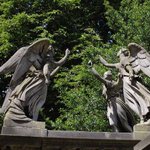 Piech42 There's a TARDIS sized gap between these Angels at Kensal Green Cemetery in London…. Just saying!

#DoctorWho pic.twitter.com/BkJbtBk730
@iPhoneBlog geht das auch mit dem iPad 4? manche Multitasking Features gehen ja nur auf den neuen iPads, richtig?