Alles außer der Melodie von "Kleid aus Rosen" von Subway to Sally ist Knochenbruch und Muskelzerrung
@badboy_ gibt halt nur die eine Art der Interaktion.
@EZTEQ schade. Danke trotzdem
@EZTEQ gibt's das schon unter 12.04? Kann das nicht finden. Btw ich hab auch keine Admin Rechte
Benutzt jemand von euch Ubuntu und kann mir sagen wie ich die Zeit&Logout dingsies oben rechts wieder bekomme? #followerpowe
I really would like to have an add to inbox button in the @OmniFocus today widget
Warum kann @DHLPaket express eigentlich nicht an eine Packstation liefern. Das wäre so viel praktischer…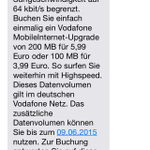 Die nehmen es aber auch echt von den lebenden. -.- also eine Woche Schneckentempo. pic.twitter.com/kPJP8Kj6qp
Mäh. Mit Kopfschmerzen aufgewacht.