So tief im Programmieren versunken gewesen, dass ich vergaß mal was zu essen zu kochen. Mhmmpf was wird's denn dann heute
freebsdgirl git needs an unfuck subcommand.

$ git unfuck -4 # oh no please forget the last 4 things I did. they never happened. the rebase is a lie.
@bmalum_ das war wohl wunschdenken. Ich mein natürlich down. Als ob es sowas inD gäbe 😉
\o/ wenigstens hab ich jetzt 27,2 MB/s upload und ne neue Fritzbox \o/
Über Präfixbäume im Präfixbaum iterieren, während man im Präfixbaum iter#KnotenImHirtenImHir
Was man ja auch gern erstmal vergisst: Fritzbox-Ansicht auf Erweitert stellen
Fritzbox neu einrichten und dann erstmal Backup der Einstellungen machen…
Dann hör ic halt Terrorgruppe wenn ich schon nicht produktiv sein kann.
Dieser Tag hat's auch direkt verschissen Ey
Fritzbox abgestürzt. Alle Einstellungen reseted. Sagt mal ist heut Montag oder was?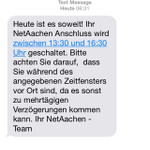 Das freut mich wirklich sehr aber einen Tag vorher bescheid geben wäre ja nett gewesen.pic.twitter.com/xHMPLLUkg00