@zwiebeltulpe 5.0 läuft nicht auf uberspace.@bmalum__ schaut sich aber an ob man da was machen kann.
Halb 10 Bad wischen. Leben am Limit.
@zwiebeltulpe nein. Die Anleitung sollte aber soweit noch funktionieren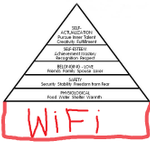 mdcounselling An update to Maslow's hierarchy of needs! pic.twitter.com/ON2kKyPKew
You annoy me, therefore I exist.
@Pocket_Man Ich habe auch festgestellt, dass Teig der einen Tag im Kühlschrank lag, besser schmeckt und besser ausrollt
@Pocket_Man Teig wird einmal vorbereitet und dann portioniert eingefroren. Daher dauert es dann beim zubereiten nicht mehr lang
Die meiste Zeit bei einer selbst gemachten Pizza benötigt der Ofen beim vorheizen#justsayinn
RT @littlewisehen: Bildungsschock!

Immer weniger Waldorf-Schüler können ihren Namen stolperfrei tanzen!