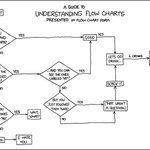 Flow Charts xkcd.com/518/ pic.twitter.com/dxSs66r3eS
…das ist einfach traurig, wenn seit, sozial und andere Nettigkeiten entstehen.
Das mit der Flut in Dresden ist wirklich schlimm und es ist toll, dass alle sich helfen. Aber keine Kommentare unter die Bilder schreiben…
Falls ich demnächst mal Frage: 6-7 Kartoffeln/Blech
RT @KGeni: Ich werde nie Gefahr laufen durch den Gulli zu flutschen. Das ist der Vorteil von Kurven, ihr Size-Zero-Hühner.
RT @joerg340: Sagt der Sepp aus München: "Dös Englisch is a komsche Sproach: I hoast Ei,
Ei hoast Eck, Eck hoast koaner und koaner hoast no…
secboffin How to annoy a geek: programmer edition. pic.twitter.com/k1lyS96944
RT @Vergraemer: Alle erzählen Quatsch. Sie haben eben nur das Pech, dass es bei Ihnen auch dem letzten Depp auffällt.
Dynamisches programmieren ist eine Methode aus kleinen Problemen algorithmisch große zu machen.
Betretnes schweigen in der Ãœbung. Dienstag eben.
Man entscheidet Akzeptanz mithilfe des Kellers. Und plötzlich wird so vieles klar.
correct 'ouch' to 'touch' [nyae]?
RT @der_handwerk: "Hier möchte ich mit dir alt werden."
"Du bist doch schon alt."

Romantik kann sie.
"Warning" signs at historical sites tell visitors to relax and enjoy themselbit.ly/ZoQA1A6sfy