Ey was war das denn für ne Game of Thrones folge bitte. Oo
RT @markus_schlegel: Und wenn's nicht klappt mit dem Java Applet, kann ich immer noch bei T-Systems Karriere machen.
@BieneZabrina nevermind. Ich Troll nur ein bisschen um mich von Mathe abzulenken.
Ich brauch noch'n Kaffee…
Wie ist das eigentlich: Zweiter Mittagsschlaf am Tag, geht das klar?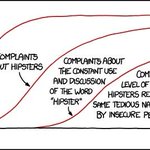 Hipsters xkcd.com/1220/ pic.twitter.com/HKdOaDhU2f
RT @BuntesRadebeul: Hochwasserhilferufe kommen aus Kötzschenbroda und dem Weißen Haus. Wer helfen kann ist gern gesehen! Gummistiefel… ht…
RT @honigsuess: Jetzt war ich so knapp dran, die Weltbeherrschungsmaschine fertig zu stellen und jetzt fehlt mir ein Lego-Zweier weiß!
Wieso gibt es bei YNABs Cash-Accounts eigentlich cleared stati? Wie soll man uncleared Bargeld ausgeben?!
Snow_One Jeder hatte im Leben diese 5 Minuten, in denen er sich intensiv konzentriert hat, um zu testen, ob er Psychokinese beherrscht.
mbrit Also, I've now decided that if you're presenting your new post-PC era product and you're wearing a suit, you're doing it wrong.
Heute werde ich wohl kaum um den Mittagsschlaf herumkommen :3
RT @loewenlocke: Montag also, ja? Da muss man doch was dagegen tun!
Habe furchtbar geschlafen. Dem perfekten Montag steht als nichts mehr im Weg.